Environmental Monitors on Lobster Traps and Large Trawlers (eMOLT)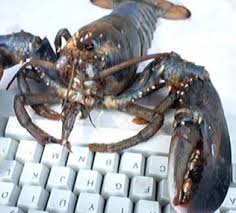 The eMOLT project is a not-for-profit collaboration of industry, gov't scientists, and academics devoted to monitoring of the physical environment of the US Northeast Continental Shelf. While initiated at NOAA's Northeast Fisheries Science Center (NEFSC), the Gulf of Maine Lobster Foundation has supported the project since 2003 and now leads the administration.
In a series of phases, funded primarily by NOAA's Northeast Consortium (2001-2010), NEFSC's Study Fleet program (2015-present), and NOAA's Ocean Technology Transition program (2017-present), we develop low-cost strategies to measure temperature, salinity, dissolved oxygen, and current velocity with the help of over 100 fixed and mobile gear fishermen dispersed along the entire New England coast. With the primary focus being bottom temperature, we supply local ocean modelers data.
eMOLT now in real-time
For a list of the most recent data vs model output, click here.
For a map of the observations over the last month, click here
For a map of observations relative to climatology in the past week, click here.
For a set of time series plots of bottom temperature collected by various fishers, click here.
For a one page description of the system, click here .
For more details on the equipment used, click here.
For a list of things expected of participating fishermen, click here.
For a set of instructional videos on the realtime system setup click here
For a set of instructional videos on the local ocean data portals click here
To access the original NOAA page, click here.
Contact: james.manning@noaa.gov